Useful Dog Products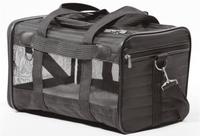 Perfect for traveling in style and comfort by plane or car, for an adventure or just a trip to the vet Patented spring wire frame allows the rear end of the carrier to be pushed down several inches to conform to under-seat requirements
Locking zippers for safety and mesh windows for ventilation
Padded adjustable, no-slip carrying strap, seat belt/luggage strap, machine-washable faux lambskin liner, and rear pocket for convenient storage of treats, leash, or bags
Approved for use on most airlines and included in Sherpa's Guaranteed on Board programSize medium is for pets up to 16" L x 10" H and up to 16 lbs Medium carrier measures 17" L x 11" W x 10.5" H Do NOT select the carrier size based on weight only. Choose the carrier size based on your pet's measurements first, then make sure not to exceed the maximum weight limit..Carrier is intended for safe and comfortable travel; the pet will not have excess room to move around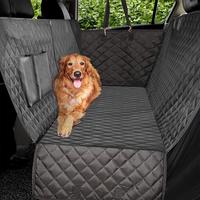 Keep your car's interior looking like new with dog seat cover with heavy duty zippers. Muddy paws, wet dogs, drool, hair and dander will never touch the leather or upholstery of your pristine backseat when it's protected by this waterproof cover. The heavy-duty quilted polyester surface is padded for extra comfort and easy to wipe clean.

It is compact, it is portable, and it is super easy to take along with you wherever you go to keep your pet hydrated and refreshed. The silica gel ring ensures the bottle stays tightly closed so nothing leaks out. Equipped with a durable strap, so that you can wear it around your wrist or conveniently hang it when not in use. To use, simply slide the tab to the unlock position and hold down the button. Clean and clear water will pour out into the trough for your dog to lap right up. When your dog has had enough to drink, you can hold down the button again and the remaining water will flow right back into the bottle. With the 2 carbon filters included, you can be sure your pet is drinking only the cleanest water.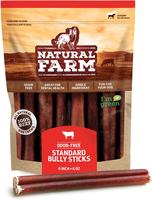 Like rope bones or thick cow ears, bully sticks help stimulate jaw muscles when chewing and help remove harmful plaque buildup for cleaner teeth and fresher breath. Also useful for flights and other times you have to keep your puppy or dog occupied.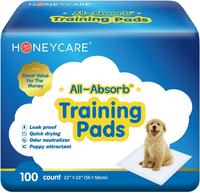 All-Absorb Super Absorbent Training Pads are leakproof, quick-drying potty pads with enhanced odor control. A special attractant is used to signal the proper potty spot when you're housebreaking a new puppy. Each pad has five layers of protection. This 5-layer system helps contain messes, making them less smelly and easier to clean up. Pads measure 23 x 22 inches and come in either a 100-count box or a 200-count box.